David Laskin


Born in Brooklyn, I was raised in the Long Island suburb of Great Neck just a few blocks from the house where F. Scott Fitzgerald started The Great Gatsby. I used to bike past Fitzgerald's house and peer across the lawn, wondering which room he wrote in.
After grad school in England, I did a brief stint in book publishing before hanging out my shingle as a freelance writer. I hit my stride when I began writing suspense-driven narrative non-fiction books about the lives of ordinary people caught up in events beyond their control, be it catastrophic weather, war, or genocide. My 2004 book The Children's Blizzard, a national best-seller, won the Washington State Book Award and the Midwest Booksellers Choice Award. I also won the Washington State Book Award for my last two books – The Long Way Home: An American Journey from Ellis Island to the Great War and The Family: A Journey into the Heart of the 20th Century.
A couple of years ago, following in the footsteps of my mentor, the late Ivan Doig, I decided to jump the fence from non-fiction to fiction. My first novel What Sammy Knew proved to be a game-changer for me. I am currently at work on a second novel.
I write frequently for the New York Times Travel Section, and I have also published in the Washington Post, the Wall Street Journal, Smithsonian magazine, American Ancestors, the Seattle Times, and Seattle Metropolitan. When not reading and writing, I am usually outdoors trying to tame our large unruly garden north of Seattle, walking our sweet but unruly dogs Patrick and Gloria, skiing, or hiking in the Wallowa Mountains of Eastern Oregon. My wife, Kate O'Neill, and I have raised three wonderful daughters – all grown now and embarked on fascinating lives of their own.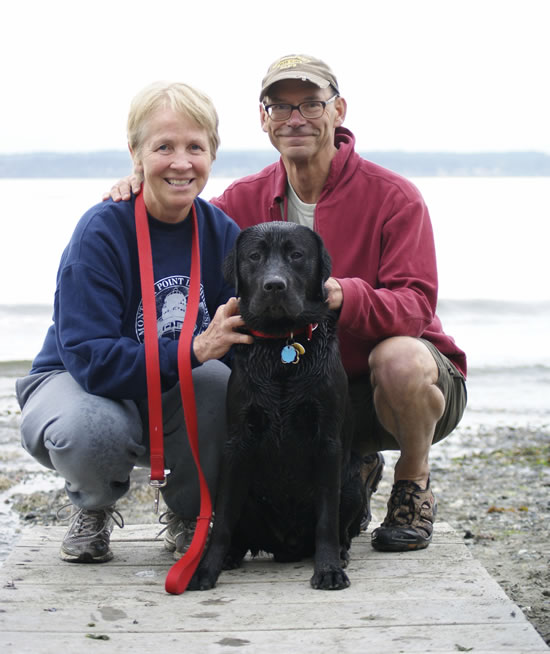 David with Kate and Patrick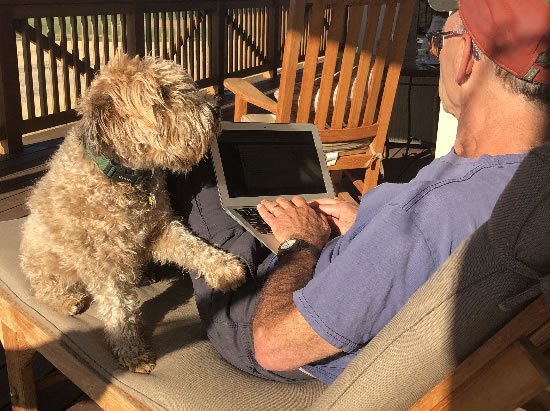 Gloria helping David with the final draft.